Mano Vuelta, 2023
in collaboration with Emilia Matus Ruiz, Rosibel Carmona Torres, Patricia Yareli Quintas Matuz, Perla Anahi, Naranjo Noyola, José Arias Triste, Edgar Rubén Carmona Torres, Juan Daniel Arias García, Edwin Gildardo Carmona Torres, Dulce María López y Gustavo Parra Alvarado.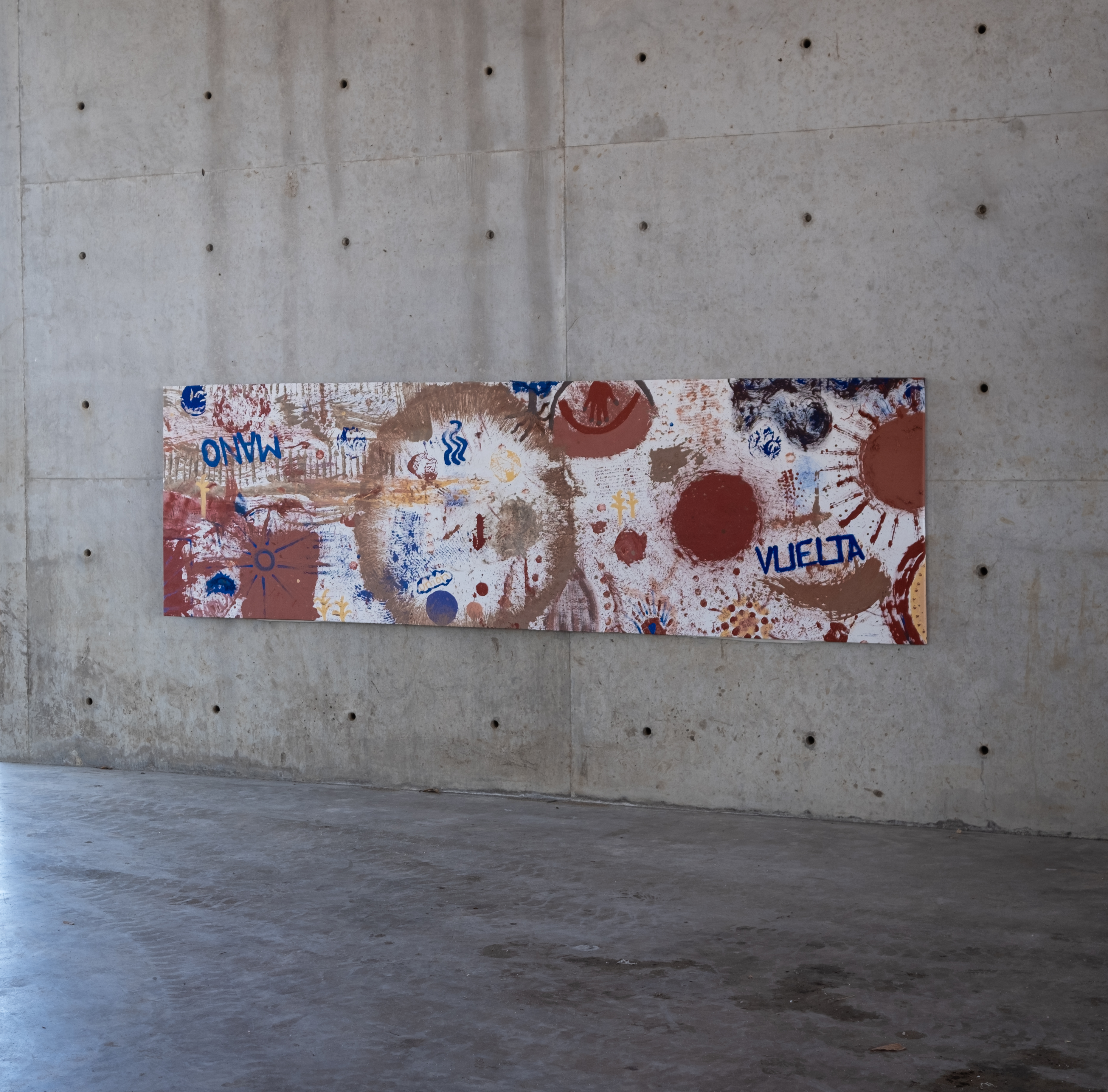 Specification of the piece:
Mix media (clay, corn and natural pigments) on canvas.
Size: 3m x 90cm

Description:
Mano Vuelta is a collective artwork created using utensils and materials crafted from corn and clay during my residency at Casa Wabi. The pictorial registration processes pay homage to the diverse ecosystem around this cereal and its intricate interdependence with people who harvest and consume it. The title of the artwork, 'Mano vuelta' derives from the expression used in the state of Oaxaca to signify mutual, collaborative, and supportive assistance, particularly within agricultural production processes.

The dimensions of the artwork are based on the measurements of the table where the gardening, maintenance, cleaning and kitchen team typically eat. The table serves as a space where different opinions, social hierarchies, and customs can be appreciated. With measurements of 3m long x 90cm wide, the artwork celebrates the conversations, exchanges, and individuals who gather around this table, who are also the participants and collaborators in the creation of this artwork.

When observing Mano Vuelta, one can discern that the pictorial elements lack a defined direction. This is because the painting was executed horizontally, with the canvas placed on a table. Consequently, each viewer can choose their own vantage point. As a result, there are elements that contradict what is conventionally considered above, below, or vice versa. This characteristic is essential in reflecting the pluralism of perspectives and the occupation of space.